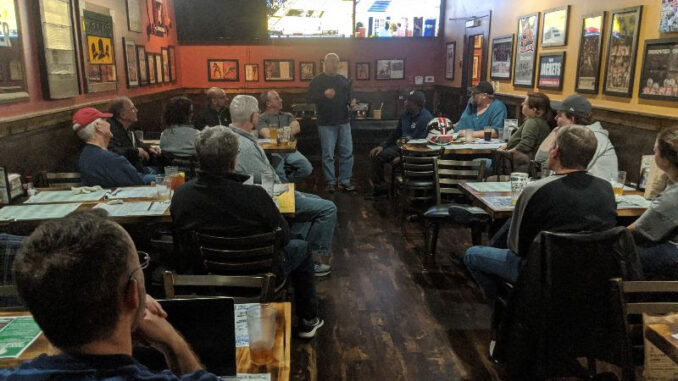 Tech Talk:
We had a great time last month with Gary Deiran leading the impromptu discussion on car suspensions, so we thought it would be a great idea to make this a regular thing! So, this month we will have another one led by Matt Scott covering brakes.
Discussion topic:
Brief overview of the automotive braking system.
Pros and cons of common brake upgrades: fluid, pads, rotors, calipers.
Common types of brake failure during HPDE, and how to avoid it.
About Matt, our speaker:
Professional mechanical engineer in the automotive industry.
Amateur mechanic.
Experienced HPDE and autocross driver.
---
Last month's meeting!
On January 23rd, we had our annual elections and social event at the Winking Lizard. We unanimously voted Jessica Frasure in as our new Vice-Governor! Please be sure to thank her for volunteering the next time you see her! Also, a big thank you to Chuck Grafton on being an awesome Vice-Governor for the last 2 years! 19 members showed up for the elections, which I think might be a record of some kind. We also had very lively conversation based around our guest speakers.
One of the night's speakers was Tom Van Winkle, also one of our newest members! He gave us an overview of his new app, Track Side Schedule. His aim is to help driving schools make track days easier to manage and less frustrating for drivers by helping better track changes in the ever evolving track schedule. We had a lot of member engagement and hope to be able to test drive TSS in the future.
Another member, Gary Deiran, stepped up to talk about car suspensions after Rob Varcho brought in a well worn shock from his Z3. There was a lot of questions and great conversation surrounding how shocks and struts work, how they are designed, and how to tell when it's time to replace them. Thanks to both of them for kicking off what we hope to be a great new addition to our monthly events.
---
Holiday Party!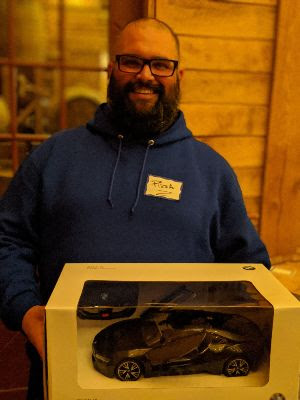 ---
Buckeye Electric Go-Karting!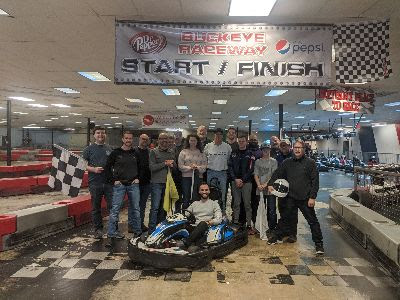 The following week on February 8th, 18 members got together for some Go Karting at Buckeye Raceway. Congrats to Scott McNutt, our fastest driver of the day, and Matt Laci, who were both able to break into the high 35s!
Upcoming Columbus Events!
---
May 28th: We will be going to Auto Assets, West Olentangy Street, Powell, OH 43065. Auto Assets specializes in European auto repair, they also buy and sell cars with an emphasis on rare, special, and collector imports and classics. We will arrange for a food truck, and it will be a BYOB night, similar to Performance Auto Spa. More details to be added as we get closer to the date.
August 22-23rd: The fabulous Buckeye BMW CCA driving school is coming to Mid-Ohio Sports Car Course. There will be the fantastic dinner on Saturday night included with your registration. More info here: https://buckeyebmwcca.org/buckeye-chapter-hpde-2020/
Regards,
Mark and Jessica

P.S. We are always looking for new ideas for club meetings and social events, if you have any ideas and can't wait for a meeting, please email us at [email protected]! We'd also love to hear any ideas for a new place to try for a meeting. We have 3 basic requirements, a nice big parking lot where we can grab a corner to hang out before eating, a good drink selection, and a private room for 20+ people so we can hear each other talk. If you don't have any immediate ideas but can help by filling out a short survey, we'd really appreciate it! Here's the link: https://forms.gle/MiT7wLCqs57HvQzTA

Area contact info:
Columbus Governor – Mark Arnold
Columbus Vice-Governor – Jessica Frasure
c

[email protected]
P.S. We are always looking for new ideas for club meetings and social events, if you have any ideas and can't wait for a meeting, please email us at [email protected]! We'd also love to hear any ideas for a new place to try for a meeting. We have 3 basic requirements, a nice big parking lot where we can grab a corner to hang out before eating, a good drink selection, and a private room for 20+ people so we can hear each other talk. If you don't have any immediate ideas but can help by filling out a short survey, we'd really appreciate it! Here's the link: https://forms.gle/MiT7wLCqs57HvQzTA

Area contact info:
Columbus Governor – Mark Arnold
Columbus Vice-Governor – Jessica Frasure
c

[email protected]
---