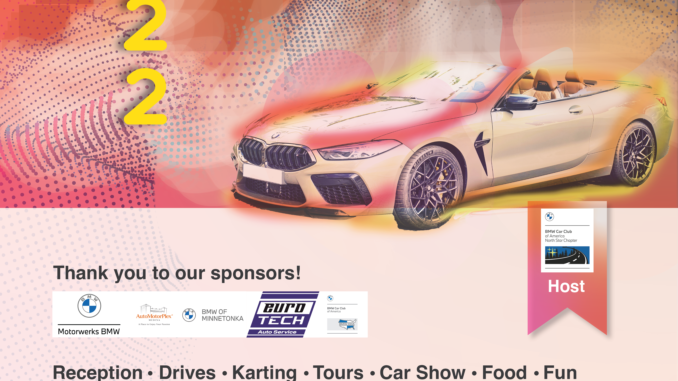 NordFest – A BMW CCA North Central Region Festival hosted by the North Star Chapter
Dates: September 8 – 11, 2022
Host Hotel: Sheraton West Hotel in Minnetonka
Join us for Nordfest, the first annual BMW CCA North Central Region Festival.  The North Star Chapter is the first to host a "Mini Oktoberfest" type of gathering for all our chapters from September 8 to September 11! 
Attendees can look forward to popular activities, including driving tours, a reception, car show, karting, MN highlights tours, beer tasting, social dinners, and much much more!
First time to Minneapolis and the Lake Minnetonka area? There's no better way to experience it than with your fellow BMW enthusiasts! Lake Minnetonka is located just 20 minutes west of Minneapolis. It is one of the largest lakes in Minnesota with over 100 miles of shoreline. Lush greens, extensive wildlife, and interesting history make Lake Minnetonka a fun and unique place to visit. 
Nordfest is open to all BMW CCA members, and their guests, from all Chapters across the United States. Make plans now to celebrate all things BMW with us in Minnesota this September. We hope to see you there! 
Learn more and register here: Nordfest Event and Registration
Register soon to take advantage of early bird pricing through June 30!