Cincinnati Area Meeting
April 10 @ 7:00 pm

-

9:00 pm
Okay, this month for something a little different, we'll give Hyde Park's China Gourmet a try!
If you've never been there, their main entrance is on the lower level parking lot (note the arrow on the attached picture).  The closest parking spots are on the lower lot, but you can park in the upper lot spaces & walk down the lane connecting both lots.  There are a few parking spaces on Erie also.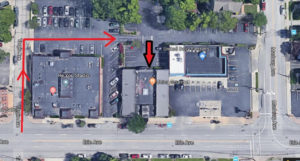 They are on Erie Avenue, in the building adjacent to the UDF at the corner of Erie & Marburg.

Please shoot me a quick reply if you're coming so I can have a good headcount for our reservation – thanks much!

Hope to see everyone there!

Cincy Area Monthly Meeting
Wednesday, April 10th, 7:00 pm.
China Gourmet

Cincy Area Governor, Buckeye Chapter, BMW CCA