2018 BMW Festorics
August 25, 2018

-

August 26, 2018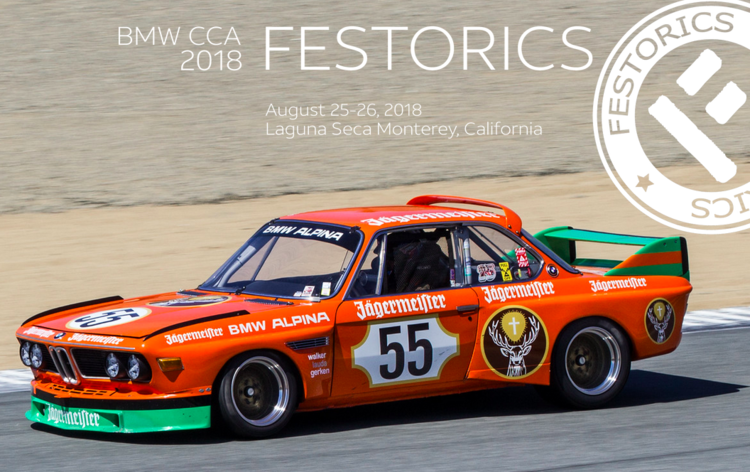 BMW CCA Festorics Corral and Hospitality
Presented by Michelin at the Rolex Monterey Motorsports Reunion
August 25-26, 2018
Laguna Seca Monterey, California
Festorics is a celebration of the diversity and the mystique of BMW, the cars and their owners and our appreciation for the brand. Since its beginnings Festorics has improved year by year in every one of the aspects by what this event is measured; the exciting setting, the hospitality, the efficient organization, our enthusiastic audience, the awareness at BMW NA, and above all, the elegance, originality and state of preservation of the participating automobiles.
BMW of North America brings classic BMW Motorsport cars to race during the weekend, examples include the 1980 IMSA M1, the 1978 Group 5 320 Turbo, and the 1975 IMSA GT 3.0CSL. Famous drivers such as Bobby Rahal and Jackie Stewart, and others are regularly invited to pilot these cars. Privately owned BMW racers range from prewar to classic '70s race cars; these race cars occasionally stop by our corral so our members can see them.
See and hear historic race cars at full speed doing what they were originally intended to do, and that's race. The action in Laguna Seca's race paddock is equally breathtaking. With the racing smells lingering in the air, spectators can walk among an incredible array of vintage race cars still hot from their laps on the track—including spectacular BMWs.
Join us for the BMW CCA Monterey Weekend, featuring Legends Of The Autobahn and BMW CCA Festorics Corral and Hospitality at Laguna Seca! From the beautiful concours lawns of Legends to the trackside thrills at Laguna Seca, you are sure to have an unforgettable experience!
Check out the video below for a teaser of the events, and be sure to register ASAP before these events fill up!